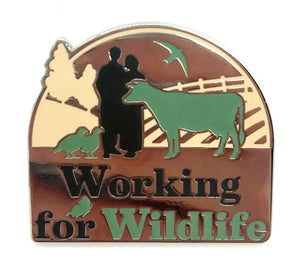 £5 from the sale of each badge goes directly to our Working for Wildlife fund
You can help us support the unsung heroes of conservation by buying one of our brand new Working for Wildlife badges. £5 from the sale of each badge goes to our Working for Wildlife Fund. Badge measures 3.5cm in diameter.
Working for Wildlife is the home of Britain's Working Conservationists. Working Conservationists are the private land managers pioneering wildlife-friendly management in a productive countryside.
Though their work is often supported by agri-environment schemes, they volunteer additional funds and countless hours of their time to looking after UK wildlife. They come from a range of different backgrounds from across the UK, but all share a love of wildlife and the habitats they look after.
As well as the land managers on the ground the individuals who support them should also be regarded as Working Conservationists. From community volunteers, to local bird ringers and the advisors who provide practical guidance to based on scientific research.