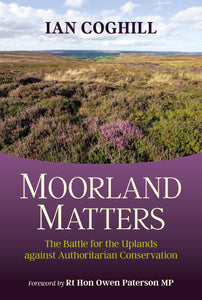 Hardback - 256 pages

With Britain's islands holding a large proportion of the Earth's stock of heather moorland, it is an extraordinary fact that it stands as one of the world's rarest habitats.

A landscape beloved by millions, it's renowned for the tranquillity and solace it provides – however, this tranquillity is an illusion. Britain's moorlands have, in less than a decade, moved from a position of benign consensus to the epicentre of the bitterest conflict within UK conservation.

This insightful book sets out to examine and expose the hidden issues surrounding UK moorland conservation, giving a voice to the many people who work and live there and who feel that what they have to say is often ignored, if it's even heard at all.

The fate of our uplands is in our hands, and it is important that an alternative narrative, from the perspective of the practitioners who have cared for these places for generations, are considered.

It may be that those with power chose to ignore these facts and sweep them away, but at least now they cannot say they didn't know.

Features a foreword from RT Hon Owen Paterson, MP.