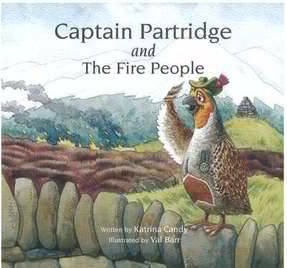 "Captain Partridge is a delightful little book - ideal for children and adults alike, a good stocking present"
Captain Partridge is visiting his Wildlife Regiment on Drumwhinnie Moor and making sure everything is ship shape after a long winter. But when Grenadier Grouse and Private Pipit see people with long sticks setting fire to the heather, the alarm is raised and they evacuate to take shelter in Bothy HQ. Why were these people burning the heather? Didn't they know that wildlife depends on it? Will Drumwhinnie ever be the same again?
Captain Partridge and the Fire People is the first book written by the GWCT's Head of PR & Education (Scotland) Katrina Candy. It's an exciting adventure with loveable characters beautifully illustrated by Perthshire wildlife artist Val Barr. As well as being a jolly good read, the story gently explains aspects of land management and conservation to the young reader. All proceeds from the sale of the book will benefit the Trust.