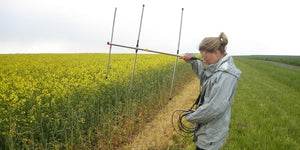 As a GWCT Student member, you'll receive a host of exclusive benefits that are ideally suited to those who are learning about the British countryside. You'll also help to conserve it for future generations to enjoy.
✓ Free digital copies of more than 10 bestselling GWCT books and key scientific publications including our Annual Review and members' magazine, produced three times per year.
✓ The chance to visit our pioneering Allerton Project Farm at Loddington for a guided tour.
✓ Regular email updates containing all our latest research findings and news.
✓ Access to dozens of unique courses and events taking place throughout the year.
✓ Participation in members' prize draw raffles.
✓ Access to our members' area at the Scottish Game Fair and priority parking.
✓ You can join your local County Group and get directly involved.
✓ Optional daily email news alerts containing all the latest conservation news.
✓ Pleasure from the knowledge that you're helping the British countryside thrive both now and in the future.
Watch this short video in which gamekeeper Ed Coles explains why those involved in fieldsports and conservation should join the Game & Wildlife Conservation Trust.