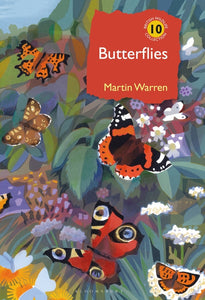 Hardback - 384 pages

This new addition to the British Wildlife Collection is a unique take on butterfly behaviour and ecology, written by the former Chief Executive of Butterfly Conservation, Martin Warren. It explores the secret lives of our British species (also drawing on comparative examples from continental Europe), revealing how they have become adapted to survive in such a highly competitive natural world.
Combining personal anecdote with the latest discoveries in the scientific literature, this book covers everything from why we love butterflies and their life-cycle from egg to adult, to their struggle for survival in a world of predators and parasites and the miracle of migration.
The final chapters explore how butterflies are recorded, the change in their ranges and abundance during the 20th and 21st centuries, and the significance of managing habitats at a landscape scale, concluding with a passionate plea for why we must act now to reverse butterfly declines. Insightful, inspiring and a joy to read, Butterflies is the culmination of a lifetime of careful research into what makes these beautiful insects tick and how and why we must conserve them.